The Residents
I've been a fan of the provocative rock band The Residents since the early '80's, and while I had always ordered their merchandise from the famous Ralph 'Buy or Die' catalogs, in the '90's I started submitting my orders along with cards and images that I had made. I did quite a few but I find that I only have a couple of old photocopies (!) of two of them.
One morning before work I drove out to San Mateo to see if their old studio/house was still there, and to my surprise, it was! I made a quick sketch on the spot and later drew a card for their 25th anniversary.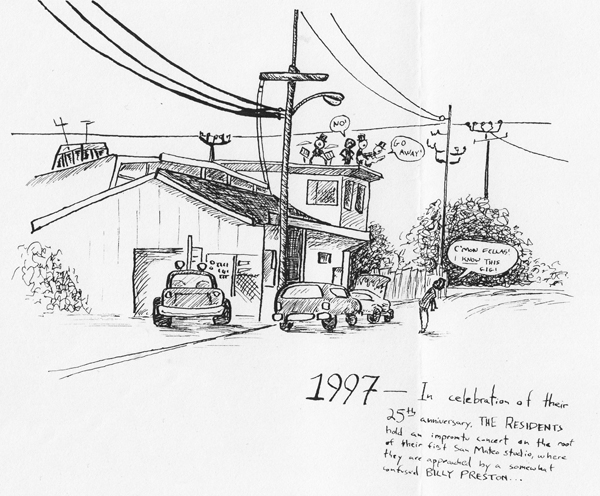 Sarah and Molly of Ralph Records were always very nice to me, and would send me extra goodies sometimes. Then they asked if I would make some drawings for them - they wanted to put a sample in the catalog and also make some postcard sets of fan art. So I went ahead and did a few drawings.
Even my friend Zoe Sikkel, who is only 8, is eager to get in on the Residents action!
The card sets never happened, I don't think - in fact the 'Buy or Die' catalog only existed for another issue or two before the internet took over. But I did get into the pentultimate catalog. I hadn't met Sarah or Molly face to face, and since at that time I went by my middle name, they assumed as most people did that I was a boy (one of the reasons I go by my first name, Tracy, these days).
All the pictures were based on the titles of Residents songs or lyrics, with exception of 'San Francisco Girls' by Fever Tree. Most of them were new ideas, but 'Birthday Boy" was based on a drawing I had done in 1983.
The Residents are still going strong, and there's a lot of hubbub right now about a definitive film biography of them that is in the works called 'Theory of Obscurity'. You can find out about it at www.residentsmovie.com